We take a retrospective on the decade with everything from our favorite moments to remembering how culture evolved.
2016 was an interesting year for anime. Quite a few of the seasons (or, on a bigger scale, years even) this decade gave audiences inconsistent levels of quality in anime. Some were very top-heavy, while others were barren of anything that would scratch an 8.0 on MAL. As we researched and reported the findings on what users thought of anime throughout the decade, we noticed that there were a few years that stood out from the crowd in their consistency of delivering many "good" anime. 2014 and 2018 both sat at the very top of the list for their amazing totals, however, 2016 came in comfortably at third. The Spring 2016 season even made #1 on MAL's most shows between 7.00-7.99 in a given season this decade. The year even had a film that most anime fans have well towards the top of their best of all-time lists. Without a doubt, that year stands out as one that gives something for everyone.
The year 2016 is one that we carry quite a bit of sentiment for. With that said, it was an honor to get the chance to write about such a special year in anime alongside our great friend Kinksy. Also, thank you to Stanlick for not only making this amazing header image but for sharing our very first article to Taped Reality in 2016.
Winter 2016
Really hard to deny that year didn't start with an absolute bang. The most popular show of the season, ERASED, entertained audiences with the story of a manga artist who inexplicably travels back in time to prevent a string of child murders that shook his community. Not everyone loved the show, however, as there was discourse over the way the show concluded. A bulk of the criticism came from the point that the source material had not finished before the anime aired.
Perhaps more of a unanimous hit amongst fans, KonoSuba: God's Blessing on This Wonderful World! left viewers in stitches with its high-speed humor that landed and stuck. With such a colorful cast of characters, it is no surprise that the screencaps of this show have dominated social media avatars for years.
There was a sequel to an incredibly popular show with Assassination Classroom 2. The students of Class 3-E continue their attempts to eliminate their octopus-teacher. The show continued to find success in the silly nature of having an alarmingly helpful and kind teacher constantly thwart the attempts on their life by literally everyone. Other popular sequels this season were GATE and Snow White with the Red Hair.
A Taped Reality favorite, Grimgar: Ashes and Illusions, took the usual isekai formula and turned it on its head. Instead of outsiders arriving at fantasy worlds being overpowered and ready to tear up some enemies, this party is transported to a fantasy world and struggles mightily. The character drama along with the amount of effort these young adults must face to simply survive in a fantasy world was such a departure from the isekai story that viewers had (already) grown accustomed to.
Another favorite of Taped Reality writers and readers alike was Shouwa Genroku Rakugo Shinjuu, a drama revolving around the traditional Japanese practice of comedic storytelling. Many applauded the series for masterfully managing stories from the past and present of the world of rakugo. A quick search of this show will give you many wonderful articles. We highly recommend both the show and these writings.
The most divisive popular show of the season, Ajin, was an adaptation of a hit manga. The divisiveness came from the odd, clunky 3D animation style it uses (courtesy of Polygon Pictures). Some were invested in this greatly, while others championed its demise.
While many of the shows that scored in the "7.00-7.99″ range carry the expected debates, that year started its solid run of shows within this score range with such shows as Dimension W and Maho Girls Precure!. While a couple of shows did not fit this range, there were two that had considerable popularity with anime social media circles. The first of these gave candy-shop innuendo GIFs aplenty with the fever dream Dagashi Kashi. The second of these shows was, for many, the first time Kyoto Animation did not deliver a slam dunk anime with the action-comedy Myriad Colors Phantom World.
Finally, it was a busy season for anime movies, with iconic franchises getting both introductions and finales alike. The first Kizumonogatari film was released, giving a prequel tale on how everything in the Monogatari franchise began. Additionally, Persona 3 received its final film with Persona 3 the Movie 4: Winter of Rebirth. The alternative take on Code Geass had its conclusion this season with the film Code Geass: Akito the Exiled – To Beloved Ones as well. There was also the conclusion to the New Initial D trilogy of films with New Initial D Movie: Legend 3 – Mugen. Another film, Doukyusei -Classmates-, surprised many viewers and gathered quite a reputation as a standout anime film.
Spring 2016
Well, Spring 2016 gave some impressive hits at the top en route to delivering a packed list of "solid" shows. A legend was born with the show that does not need any introduction but we'll give you one anyway: Our Hero Academia. This action epic follows young Izuku Midoriya as he (along with help from his hero All Might) dives into the world of superheroes to become the world's greatest hero. We could go on and on about this show, but we think most anime fans know all about this one (love it or hate it, too).
Another wildly popular show this season was Re:ZERO -Starting Life in Another World-, which lit "best girl" debates on fire with enough heat to keep folks warm all year long. Joking aside, this show set the bar for many on how to make an effective isekai. With a sequel well on its way, many fans have rekindled their love for this show recently (it is still on our "to finish" list).
Bungou Stray Dogs left a very split mark amongst anime fans this season. A show of many genres, this series followed supernatural detectives and their investigations into crimes that normal justice cannot pursue. A bulk of critics for the series cited the oft-used humor that one of the main characters, Dazai, used as a point of fatigue. Hate or love the choice in humor, the show's supernatural investigations left most entertained.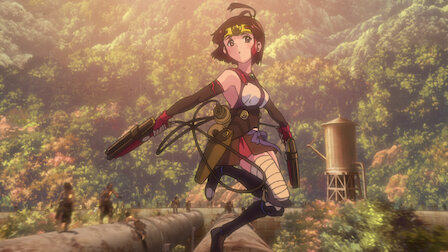 One show airing this season was unstoppable for a good while…until it finally derailed for many. Indeed, Kabaneri of the Iron Fortress looked like it could do no wrong through nearly two-thirds of the season. A massive discourse for anime fans centered around the direction the story went (with some even specifying a particular pink-haired individual) ultimately made the show lose steam and drop in rating almost all the way below the "7.00″ mark. While it was hitting, however, the action was very crisp and the music wowed many.
Similar to how not everyone was on the same page with a popular anime studio's work last season, Trigger had their turn with Kiznaiver. The romantic sci-fi drama brought seven teenagers together in a literal sense. Some adored this series, others went against it in a way that mirrored Myriad Colors Phantom World. In normal Trigger fashion, this show had brilliant visuals and took various elements to human emotion, and blasted an artistic interpretation to what the characters felt (and oh boy was there feeling).
The trigger wasn't done yet, however, as they gave fans another series in the same season with Space Patrol Luluco. This romance story spans galaxies and was an open love letter to all things Trigger. We have been trying to be fair going through what the pulse was on most shows that year, but this was a favorite of mine.
JoJo's Bizarre Adventure: Diamond is Unbreakable took the Internet by storm this season, cementing the franchise's legacy with hundreds of thousands of anime fans. The stylish action show brought dozens of iconic memes that were ingrained into otaku culture to life and ranks high on many individuals' "best of the decade" lists.
A show very popular within anime social media circles, Magi: Adventure of Sinbad, hit the seven seas this season. Despite folks within Taped Reality likely wanting me to leave it off this list, audiences were very entertained by The Asterisk War Season 2…which…let's move on. We have quite a bit of ground to cover yet with this season.
Possibly one of the biggest hits for Taped Reality this decade was Tanaka-kun is Always Listless, which served as a shining example of what the slice-of-life genre was. Another big hit within the walls of Taped Reality was Flying Witch, which delivered many of the same pluses as Tanaka-Kun.
Somewhat remarkably, Twin Star Exorcists gathered a cult following and massive hate group. Both of these sides of the debate came for the same reason: the show was an aggressively stereotypical shounen anime.
Rounding out the seasonal shows, we have two massive memes (especially for Taped Reality) in Mayoiga and Big Order. Starting with the easier of the two to surmise, Mayoiga takes a bus full of…interesting people and places them in a mysteriously abandoned village. Some of us here loved it (both ironically and unironically) while most of us saw it as garbage. Meanwhile, it is far more difficult to grasp what the degree of love for Big Order is. Made from the same creator of The Future Diary, this wild story focuses on doomsday scenarios and hair ribbons. Ask ten people what this show means to them and you'll get ten very different answers. Everything from "extremely GIF-able fun" to "hot steaming pile of dog poo".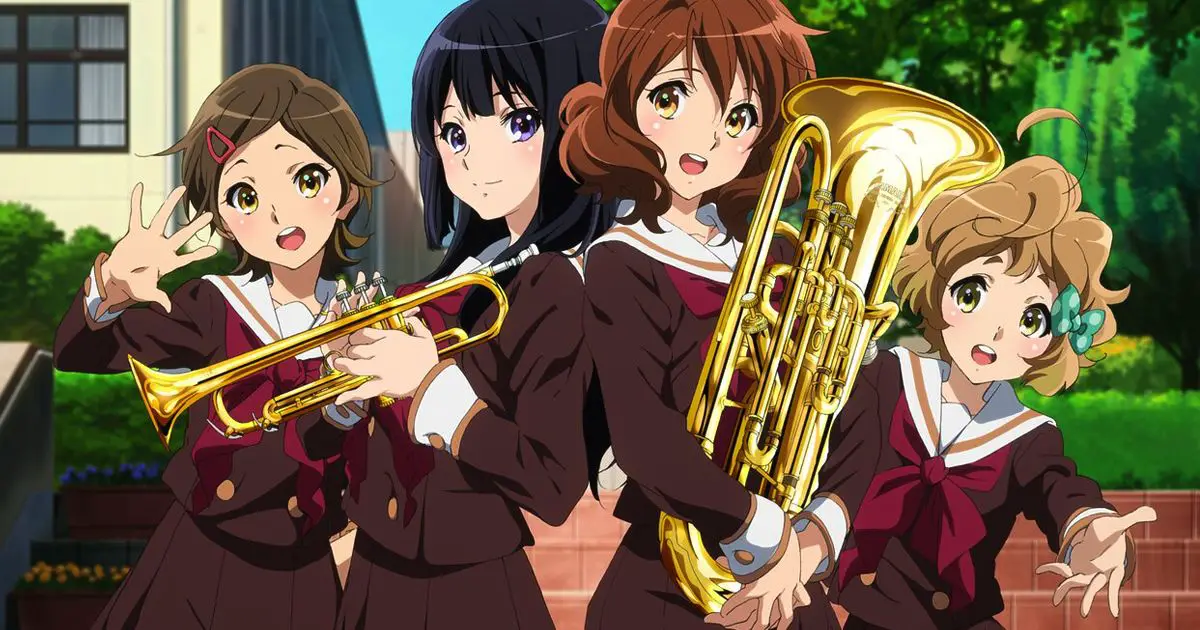 From the film front, we received several retellings of stories like Sound! Euphonium and GARO. Also, card game enthusiasts were pleased with Yu☆Gi☆Oh! The Dark Side of Dimensions. There was plenty of love for mecha-enthusiasts here too with the premiere of Mobile Suit Gundam Thunderbolt: December Sky.
Summer 2016
For the second season in a row, there is a show that leads off a seasonal anime discussion that is so big that it probably needs no introduction. Mob Psycho 100 amazed many with extraordinary animation and very endearing characters. This coming-of-age story ranks high on the "best of the decade" list for many. With the full package of a good story, animation, characters, and GIFs, it was a hit on social media as well.

It might be hard to believe it has already been this long since it aired, but Food Wars! The Second Plate delivered a hearty meal for audiences who were eager for the over-the-top competitive cooking franchise to receive a new season. While some did not care that much for the…reactions judges gave to food, many were entertained by the right blend of character drama and fascinating recipes.
Undeniably popular, ReLIFE was our second anime that year to capitalize on the "what if you went back in time to when you were younger" premise that 17 Again (you know, the movie where fat and old Chandler Matthew Perry is magically transformed into Zac Efron and his daughter tries to run the bases on him he helps repair the damages in his failed life) set as the standard. Although to be fair, the guy in ERASED was 29 and the guy in this show is 27 so it is not like the characters in the anime that year were…Matthew Perry. The show took interesting takes on this premise with the main character initially struggling and eventually adjusting to a high school system that has changed greatly.
91 Days was a good fix for those looking for an action-revenge drama. Some called it "Baccano light" while others were adamant that it was boring/mediocre. Compared to most of this season, this one was more of a toss-up whether you would like it or not.
There were 120 episodes of The Disastrous Life of Saiki K. That's only the first go it had too. Let that sink in for a minute. This comedy series won over many and sits with a very high user score across many platforms.
The Seven Deadly Sins: Signs of Holy War had a short run that was applauded by some who were fans of the series but, ultimately, was under the radar for most.
Many grown men were overjoyed to have fresh fodder for their seasonal anime girl avatars with New Game! This series was anticipated as being a runaway favorite on anime social media, however, it did not clear very high bars to many after the dust settled. The show was successful enough for a sequel, so it is not like it was all that much of a letdown for fans. This slice of life comedy still has plenty of fans who will step up to the plate for it (although their anime girl social media avatars are long forgotten)
Tales of Zestiria the X…hey remember when ufotable did projects that weren't Fate?
Before we dive into the lineup of solid shows that make this season special and fitting for the title of "something for everyone", we have to address the elephant in the room. We were being silly for a few of these, but we must be completely somber here. This was, indeed, the season we had some truly abysmal anime. We're of course talking about Love Live! Sunshine!! (or just Aqours for you weebs out there). We're kidding (it's a joke). This was a smash hit for fans of the franchise and encouraged a lot of discussion within the Taped Reality walls.
The real stinkers this season were Berserk, Taboo Tattoo, and Rewrite. Berserk has had such a plagued history with anime adaptations that this installment should come as no surprise. Between this and the (inexplicable) second season it received, there were plenty of silly GIFs showcasing the flaws it had.
The second of these shows, Taboo Tattoo, was an absolute mess. There is a term, "self-aware", that is used to try to pass off poor quality as intentional. For a sect of viewers, they believed that this show excelled at doing this. For a majority, however, this show was on a special shelf. One that ranges from "so bad it is just bad" to "so bad it is good" with various placings depending on the viewer. Think of a more recent example like Killing Bites but remove all of the fun. That was Taboo Tattoo.
Finally, Rewrite was a very negatively received anime. Part of the issue was likely that this adaptation was compared to other Key visual novel anime adaptations. This served as a prime example of a good source material not getting justice in an anime adaptation…however, a divide was created because a small portion of viewers felt that the visual novel itself was being attacked. Rational critics were annoyed by the inconsistency in episodes from both writing and animation while also throwing in that they were sure the actual visual novel did not suffer these same pitfalls. There was an ugly tug-of-war between critics who did not care for Key stories in anime form and those who adored them.
Now, moving on to the list of solid shows that had a good deal of fans, this season had a solid group: Handa-Kun, D.Gray-man Hallow, The Heroic Legend of Arslan: Dust Storm Dance, The Morose Mononokean, Amanchu!, Prisma Illya 3rei!!, and This Art Club Has a Problem! Out of every season that year, we think this one best shows that there is a bit of everything for everyone!
But Wait There's More
Just when you thought we were done, this season had two runaway hits for anime films. First, Your Name. was a smash-hit romance that was given a wonderful run in US theaters. The stunning animation was accompanied by a stellar RADWIMPS soundtrack that was filled to the brim with hits. Also, there was another popular romance-drama film that was animated by Kyoto Animation. A Silent Voice moved audiences to tears with a gripping story around disability, social anxiety, and redemption. There was also another Kizumonogatari film.
Fall 2016
The year had its big finish with one of the most popular sports anime of all time getting a third season in Haikyuu!! 3rd Season. A rare example of an anime that can demand a strong social media backing while also winning over the most critical of anime viewers, Haikyuu!! captured the thrill and drama of sports.
This was not the only popular sports anime of the season, however, with Yuri!!! On ICE taking center stage. While it was most positively received, the show came in strong at the tail end of the year to claim many websites' "best anime of the year" among other awards for the year. Of course, this did not settle well with fans of some of the other headline shows of the year. This aside, the drama and actual performances here were gripping and left long-lasting impressions.
The hyper-violent action series Drifters had mixed reception for its grotesque depiction of historical figures. Somewhat surprisingly, this show was considered a comedy to a good chunk of fans.
Continuing the success of its first season, Bungou Stray Dogs 2nd Season expanded upon its world with some backstory to build upon some of the more enigmatic main characters. There were similar complaints to the last season it had, but many hailed how strong the show hit high notes!
This season we had a phenomenal drama that followed a shogi prodigy who struggles through massive depression. Indeed, March comes in like a lion blended amazing Shaft animation with the soul-crushing drama surrounding Rei and his complicated relationships.
Both Sounds! Euphonium and Mobile Suit Gundam: Iron-Blooded Orphans received second seasons during this quarter as well. Fans of both of these were on cloud nine with fantastic follow-ups to two stellar anime. Delivering in very different ways, these two round out many "best of the decade" lists as well!
A Taped Reality favorite gahaha-ed its way into the hearts of our writers with Girlish Number. One part production nightmare and another slice of humble pie for the main cast, this comedy resonated with several of our writers despite being hammered on anime tracking sites' scores.
Another Taped Reality favorite this season was Flip Flappers, a sci-fi adventure series that was an overcharge of color and creativity. Most discussion of this show boils down to repeating "flip-flap, flip-flap", however, there is much discussion to be had about how this show used extravagant visuals to convey feelings.
There was quite a bit of controversy around the series Kiss Him, Not Me! due to the premise, however, we can quickly gloss over that one. Another anime that had appearances as a central reason for hatred was the second season of Ajin. Appearances of characters also jiggled its way in for Occultic; Nine.
There were several other anime that were hits with several of our writers: Scorching Ping Pong Girls, Ninja Girl & Samurai Master, WWW.Working!!, Tiger Mask W, Cardfight!! Vanguard G NEXT, Magical Girl Raising Project, and Poco's Udon World
Taking up the rear of this list, Keijo!!!!!!!! melted the Internet with over-the-top butt battling. We won't go any further- you either know all about this show or are better off not knowing.
From here we are going to tag Kinksy in to talk about some of the biggest garbage we had of the year:
Hey! Come on, It's not like all we watched was garbage in 2016… Durarara! finished up after a triple Split Cour and that was very satisfying. Also, Shelter came out in the summer and we know to some it's just an animated music video but it was a wonderful collaboration project between the east and west and some of the most emotional 6 minutes you could have asked for.
And It wouldn't be Taped Reality if we didn't give Schwarzesmarken a shout-out. Yeah, we know that if you're not into the Muv-Luv universe already this show might come off as terrible and suffering for suffering's sake but some of us enjoyed it… Okay Fine, you want us to talk about the bad anime we actually didn't like don't you?
Let's start up with Undefeated Bahamut Chronicle, a show which was so bad that a group of 6 of us had to form a weekly watching club just to keep each other hostage while we made our way through it. You think the Isekai trend this decade is horrible? Well, Bahamut was the logical extreme of the magical high school show which plagued the first half of the decade.
We had HaruChika in the same season which was an absolute dud of a show by P.A. Works and featured a male protagonist so unlikable and smug he sank the entire show on his own. He literally solved a Rubik's cube by painting over it and got away with it. Screw this guy.
Moving on to Spring we have the sequel to Terra Formars which somehow managed to have a Studio DEEN-level animation drop without even changing studios. Due to criticism of the first season's black hole censorship, they just decided to remove all the blood and gore entirely even when they are battling to the death. It looks just as ridiculous as you think.
The Hate Watch club would also continue into the spring season with the Infinite Stratos rip-off Hundred. we'd argue Hundred managed to improve the IS formula even with a protagonist that was denser than a neutron star (to the point he didn't notice his roommate was very obviously a girl) but being better than absolutely terrible really isn't much praise.
Of course, we also had A-1 Pictures completely phoning it in with their adaption of the first 2 Phoenix Wright: Ace Attorney games with some of the worst animation of the year… That wasn't from Berserk of course.
Since you've already covered Mayoiga and Big Order (the worst anime of the entire year) we'll move on to Summer
You can't just sweep Orange under the rug and hope that it's time travel abortions will go away. This show happened and we all have to live with the fact that it did. You'd think a show with such promise and heavier themes wouldn't have crashed this hard but Naho was a terrible character and a terrible person.
And now we have to rip off a Band-Aid and talk about a show we actually liked but we can not recommend at all due to how much of an absolute insane mess it is: Danganronpa 3. Seriously, it's a sequel to Danganronpa 2, but that never got an anime…only Danganronpa 1 did! And that adaptation was okay enough but anyone who wanted to follow only the anime is going to be completely lost. We really liked how it had 2 anime airing simultaneously and zig-zagging between past and future… but this show is kind of a car crash.
Well let's move on from our conflicted feelings on that and quickly go over Occultic; Nine. If you stopped at the jiggle girl then you missed out. Imagine watching an anime on fast forward and seeing the fallout from that insanity. No? Well we liked it even despite the first few episodes being incomprehensible
Speaking of jiggle, we had Izetta the Last Witch, which attempted to combine an alternate universe World War 2 and fantasy show and then decided to spend more time on throwing in pointless fanservice than writing a good or remotely enjoyable story.
We can think of a million different things to say about how bad this show is. If you're the in-circle, you know how "YAYAYA" has become something like an alter-ego of mine. If you really want to know how the show is, Kinksy's genuine reaction to this as he saw it for the first time was "Oh god THAT's YAYAYA?! That's more grating than Asta from Black Clover" since it was his first time hearing her.
So there is a summary of all of the anime of 2016. As we said, there was something for everyone here! What were some of your favorites from 2016?