Home Improvement was one of the best sitcoms of the 90s. Millions of fans would tune in to watch the antics of Tim "The Tool Man" Taylor each week. But even if you never missed a single episode of the show's eight-season run, we're willing to bet there are a few things you didn't know about the making of the hit comedy. Put on your safety goggles and join us for a look behind-the-scenes.
Tim Allen Was A Stand-Up Comedian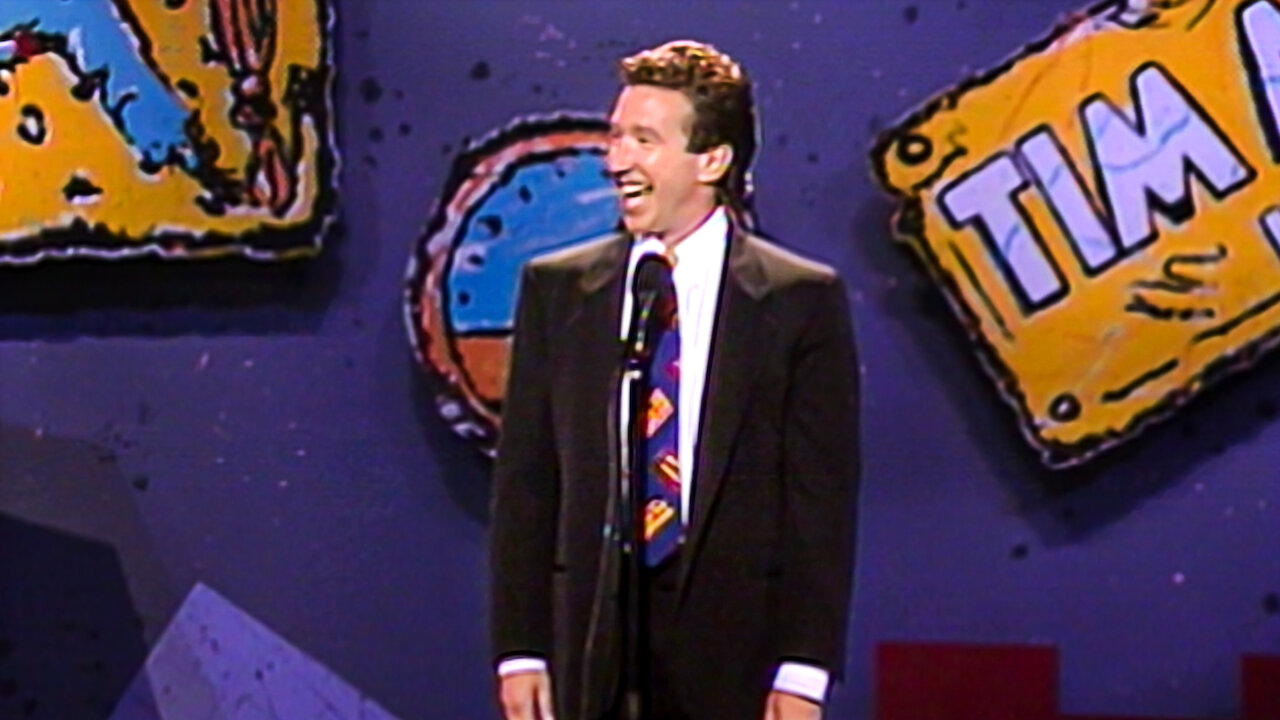 Before he was a sitcom star, Tim Allen was a stand-up comedian. His act provided the material that would eventually become the basis for Home Improvement. Allen first performed at the Comedy Castle in his home state of Michigan. Allen walked onstage a month after the now-famous venue first opened in 1979.
Allen caught the attention of Disney executives Michael Eisner and Jeffrey Katzenberg after the two saw him perform at the Comedy Store in Los Angeles. They loved his act, which led to a career-long collaboration with Disney. Allen's Disney projects include Home Improvement and hit film franchises like The Santa Clause and Toy Story.
Frances Fisher Was Originally Cast As Jill
You might remember Frances Fisher as Rose's uptight, grasping mother in Titanic. Or as the tough-as-nails Strawberry Alice in Clint Eastwood's Unforgiven. Well, Fisher was originally cast as Tim's wife, Jill. They even filmed a pilot episode with Fisher in the role.
That probably sounds like a weird fit, and you'd be right for thinking so. Fisher is a serious, dramatic actor, and her performance wasn't quite as fun and lighthearted as the creators wanted. So, the role was recast with Patricia Richardson.
Tim Allen Was Originally Offered Two Different Shows That Were Reboots Of Recent Movies
Before Home Improvement came along, Allen was offered lead roles in TV show reboots of both Turner & Hooch and Dead Poets Society. But Allen turned them both down because he felt they were "preparing for failure." TV shows based on movies generally don't do too well.
Allen's instincts turned out to be right. Shortly thereafter, he was offered his own sitcom by Disney, created by Matt Williams. Williams had created Roseanne, another wildly successful sitcom based on working-class home life and centered around a stand-up comedian. The Hooch and Dead Poets shows never even made it to air.
Al Was Originally A Different Character
Originally, Tim's co-host was going to be a character named Glen, played by Stephen Tobolowsky. But Tobolowsky was unavailable to film the first several episodes due to his commitment to a film. So they created Al to be a brief stand-in until Tobolowsky became available.
Al was only meant to be a brief stand-in for Glen. But when Richard Karn was cast, he absolutely crushed it. Karn's dynamic with Allen was too good to ignore. So when Tobolowsky ultimately decided to pass on the show and focus on film, Karn was added to the cast permanently.
Richard Karn Only Got Cast Because He Ran A Stop Sign
Karn was in a production of King Lear and ran a stop sign on his way home from a rehearsal. He was required to attend traffic school, where he met an agent who told him about a new show that was looking for actors. That show was Home Improvement.
Karn realized that he knew several people working on the show, so he decided he might as well give it a shot and audition. His audition won him the role of Al Borland. The character was originally meant to be a brief guest role. But Karn quickly became a regular cast member, appearing in all eight seasons of Home Improvement.
The Show Was Initially Called "Hammer Time"
The original title of the show was Hammer Time. It was a reference to both Tim's home improvement public access show, and to MC Hammer, who was an enormously popular artist at the time. The show's title was eventually changed after several brainstorming sessions to Home Improvement.
The creators and Allen came up with the new title, which they felt worked better. It referenced both Tim Taylor's show and the work you do as a husband and father keeping your family together. It was also a nod to keeping the house repaired, which Tim usually managed to mess up in some way.
Allen Only Wore Clothes From Michigan Schools
Tim Taylor wears a number of different shirts and sweatshirts in the show, which makes sense for a meat-and-potatoes guy who loves power tools. But Allen decided that Tim would only wear clothes that advertised teams and schools from Allen's home state of Michigan.
The Michigan tribute turned out to be a boon for Allen's personal wardrobe. The different items of clothing Allen wear on the show were actually sent to him from Michigan colleges and universities, who wanted to see their school on the show.
Jonathan Taylor Thomas Caused Friction With The Cast
Jonathon Taylor Thomas became a teen heartthrob in the 90s, thanks to his breakout role as the wisecracking middle child Randy Taylor on Home Improvement. Thomas appeared in several films during his time on the show, including The Lion King and Tom & Huck.
Thomas left the show in the last season, telling his fellow cast members that he was leaving to focus on his schooling. But Allen felt burned by it, later saying, "He said it was about going to school, but then he did some films." Thomas appeared in one final episode, "Home for the Holidays," but he didn't come back for the series finale.
Both Allen's And Thomas' Disney Characters Make A Cameo Appearance
The show's two breakout stars, Allen and Thomas, enjoyed successful film careers with Disney, who also produced Home Improvement. Thomas famously voiced young Simba in The Lion King. Allen has two full-blown Disney franchises in The Santa Clause and Toy Story, in which he voices Buzz Lightyear.
Thomas' and Allen's characters haven't met on the big screen, but they did cross paths on the small screen. In the season 6 episode "I Was a Teenage Taylor," Randy (Thomas) greets two trick-or-treaters dressed as Buzz Lightyear and Simba. As a fun gag, Randy gives more candy to the kid dressed as Simba.
The Original Wilson Quit The Show At The Last Minute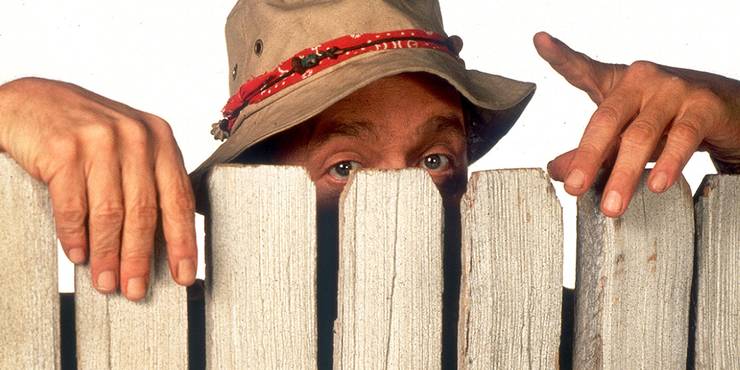 Tim regularly went to his neighbor Wilson for advice, an older man who delivered wisdom through a picket fence. In a fun running joke, the audience never got to see Wilson's full face. It was always obscured by Tim's picket fence. But not everyone appreciated the gag.
The original actor hired to play Wilson, John Bedford Lloyd, didn't realize that his face would never be seen and quit the day before filming was supposed to begin. The creators quickly cast Earl Hindman to replace him, and we think they made the right choice.
Fun fact: Wilson's full name is Wilson W. Wilson, and he has a Ph.D. in Forgotten Languages and Cultures.
The Tool Time Audience Was Just The Home Improvement Audience
When Tim films his show Tool Time, he frequently interacts with the live studio audience. Rather than cast a bunch of extras, the show just used the studio audience for Home Improvement to stand in as the Tool Time audience.
Not only did audience members get to see Home Improvement being filmed, but they also got to act in the episodes! Allen was known to do some improv to entertain the crowd in between takes, which must have been even more of a treat.
Tool Time Is A Spoof Of This Old House
The character of Tim Taylor was meant to be a spoof of famed home improvement TV star Bob Vila. Vila's show, This Old House, ran on PBS for an astonishing 39 seasons. Tim Taylor is a bumbling version of the real-life Vila. And Al's perpetual beard and flannel shirt bear a striking resemblance to Vila.
Vila definitely had a good sense of humor about the whole thing. He actually appeared, as himself, on several episodes of Home Improvement. On the show, Vila is a rival of Tim Taylor's. Tim challenges Vila to two different races, one on riding lawn mowers and one in classic hot rods.
Wilson Is Based On Tim Allen's Real-Life Childhood Neighbor
Allen had a neighbor he would talk to as a child when he was in his backyard. However, Allen's family had a big picket fence wrapped around the yard, so little Allen was never able to see his neighbor's face over the top of the fence. Allen spun this memory into the advice-dispensing character of Wilson.
Despite being a seemingly limited character-based almost entirely on a visual gag, Wilson managed to become a fan favorite. His face was never revealed until the curtain call of the final episode of the series when Wilson actor Earl Hindman finally stepped before the audience to take his final bow.
There's A Terrible Home Improvement Video Game
There was no popular property in the 1990s that could not be turned into an awful video game, and Home Improvement was no exception. Home Improvement: Power Tool Pursuit was released for the Super Nintendo in late 1994/early 1995. Don't feel bad if you've never heard of it.
The game lets you control Tim as he battled through various movie sets to reclaim his stolen power tools. If you ever wanted to see Tim Taylor leap over chasms like a Super Mario brother, and blast dinosaurs with a souped-up nail gun, this is the game for you. And no one else.
The Show Was Pamela Anderson's First Acting Job
Supermodel and actress Pamela Anderson starred on Home Improvement for two seasons as Lisa, the Tool Time girl. Previously, Anderson had already been modeling and had appeared in Playboy as Playmate of the Month. But Home Improvement was her first acting gig.
In addition to starring as Lisa, you can see Anderson modeling in the Binford Tools calendars in the background of the Tool Time set. Anderson left Home Improvement when she was cast as CJ Parker on Baywatch, which became her most well-known role. However, she eventually returned to Home Improvement, in the season 6 finale "The Kiss and the Kiss-off".
Dave Chappelle Appeared In An Episode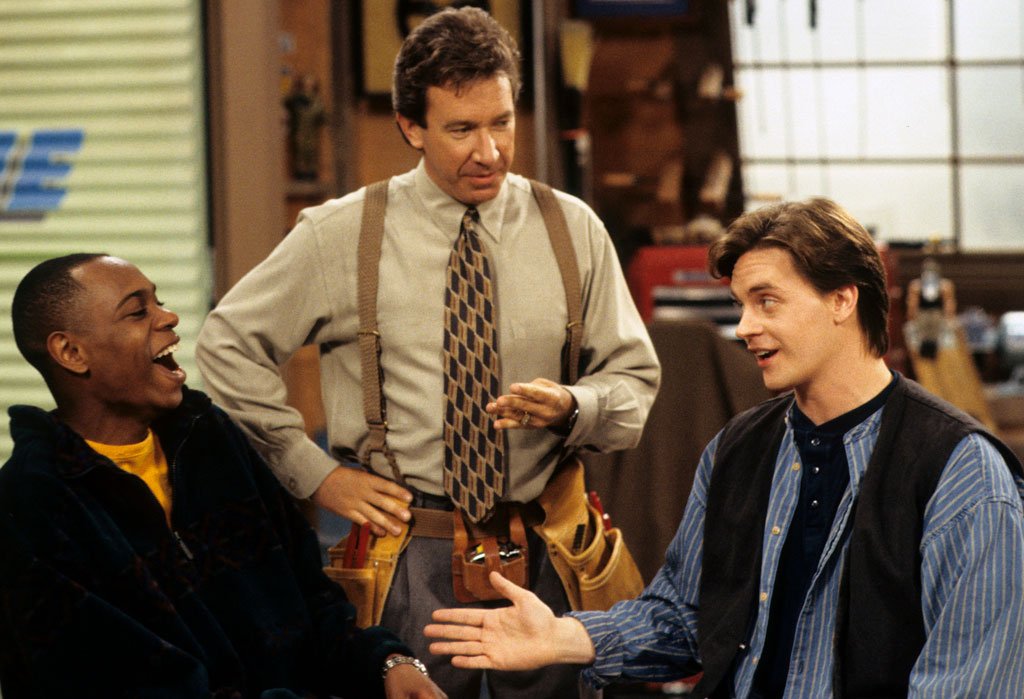 Before he became one of the hottest comedians around, Dave Chappelle appeared in the season 4 episode "Talk to Me." Chappelle played the appropriately-named character, Dave, alongside real-life friend and collaborator Jim Breuer. The two comedians played a pair of guys seeking advice for how to deal with their girlfriends.
Chappelle and Breuer's appearance was so well-received that they were given their own short-lived spinoff show, Buddies. However, the spinoff was plagued with troubles, including the abrupt replacement of Breuer. It was canceled after only five episodes. Chappelle tasted TV success several years later when he debuted Chappelle's Show on Comedy Central.
Ashley Judd Was Originally In The Running To Play Lisa
Before starring in a number of hit films in the 90s, Ashley Judd had auditioned for the part of Lisa on Home Improvement. And the show's co-creator, Matt Williams, really wanted Judd on the cast. However, he felt that she was too good for such a small role.
Williams called Judd's agent and offered to write her a brand-new role as Tim's sister. Judd ultimately declined, deciding she didn't want to do television and wanted to focus on a film career instead. She'd go on to appear in classic films like Heat and A Time to Kill.
The Repeated Gag Of Tim's Phone Number Is An Illinois Area Code
There was a recurring joke on the show wherein anytime Tim would say something offensive or chauvinistic on Tool Time, Al would have Tim's number and or address flash onscreen. The idea was that viewers could call and complain. However, any viewers who actually tried to dial that number would be met with another joke.
Home Improvement takes place in Michigan, but the number that appears onscreen begins with an Illinois area code. It's unclear whether this is an in-universe joke being made by Tim and Al, or just a fun joke by the Home Improvement producers.
Allen And Richardson Were Offered Big Money For A Ninth Season
During its eighth season, Home Improvement was in a rating decline but was still a very popular show. The producers were interested in producing at least one more season. And they were prepared to write some massive checks for their two stars.
Allen was offered $50 million to keep playing Tim Taylor. Richardson was offered $25 million. When both Allen and Richardson declined to return, there was no point in keeping the show going.
The final episode of Home Improvement aired on May 25th, 1999. When it ended, the show had run for 8 seasons and 203 episodes.
Mrs. Doubtfire Was Originally An Idea For A Home Improvement Movie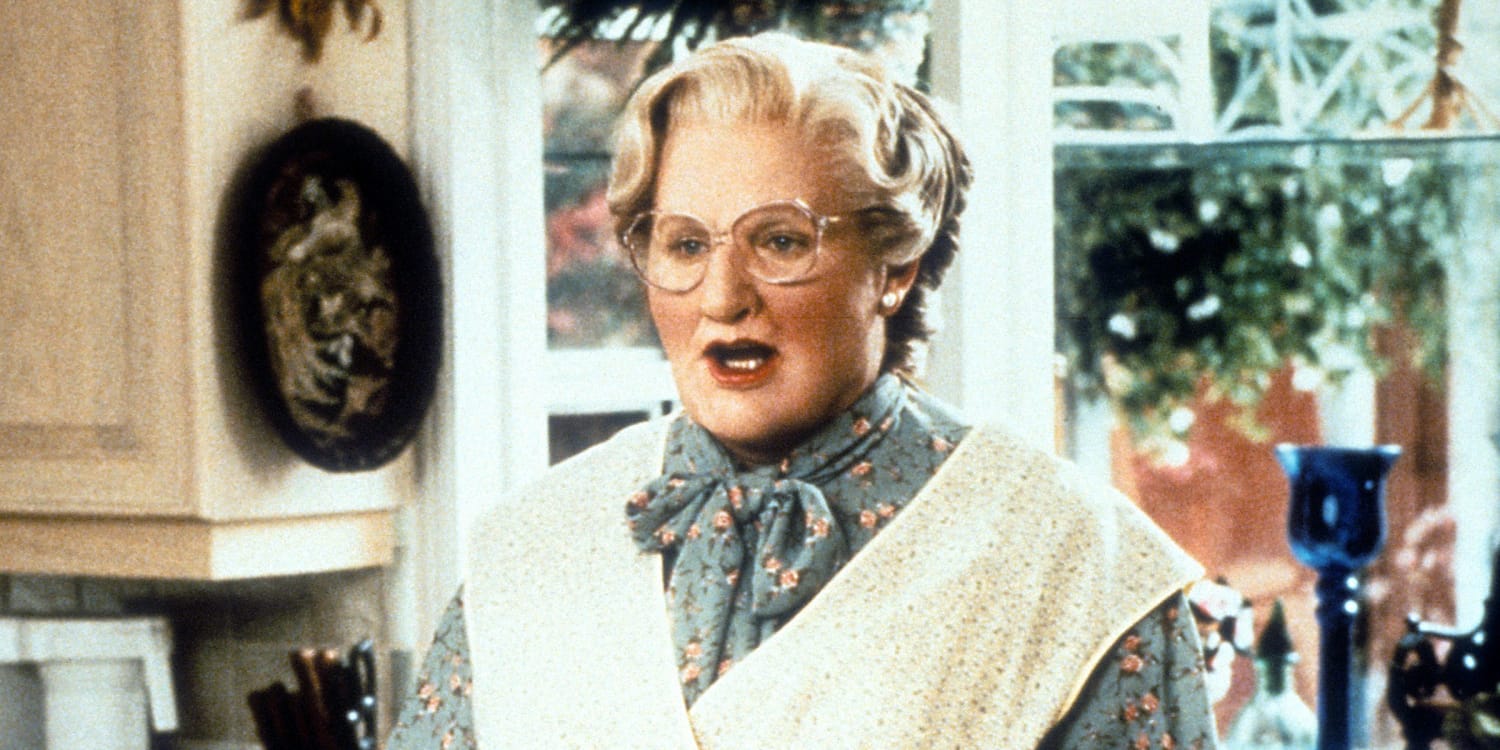 It's hard to imagine the hit 1993 comedy Mrs. Doubtfire with anyone but Robin Williams in the title role. But believe it or not, it was originally going to be a Home Improvement movie.
The story would've seen Tim and Jill getting separated, with Tim disguising himself as the titular British nanny in order to spend more time with his kids.
Allen wasn't crazy about the idea, so it was altered into the Williams vehicle we all know. Allen allegedly even turned down a chance to star in the reimagined version alongside Williams. Apparently, he really didn't like the idea of dressing up as a British nanny.
Michelle Williams Appears In An Episode.
Actress Michelle Williams has enjoyed a long and successful career, earning four Academy Award nominations along the way. But years before breaking out on Dawson's Creek, one of her earliest roles was a guest spot on Home Improvement. She was only 14 years old at the time.
Williams played a girl going on a date with the eldest Taylor kid, Brad, in the season 4 episode "Wilson's Girlfriend." Brad gets a pimple right before their date, but it turns out he had no reason to worry. Williams proved she has no problem dating people who have unusual facial features in the 2018 film Venom.
Jonathan Taylor Thomas Is Actually Older Than Zachery Ty Bryan
Zachery Ty Bryan played Brad, the oldest of the three Taylor boys. Jonathan Taylor Thomas played Randy, the middle child. And Taran Noah Smith played Mark, the youngest member of the Taylor family. But Thomas was actually the oldest of the three actors.
Despite playing Bryan's younger brother, Thomas was born a month earlier than his co-star. The two actors were actually in the same grade as each other. We're willing to bet that led to some disputes around the Taylor family dinner table!
Thomas And Allen Finally Reconciled On Last Man Standing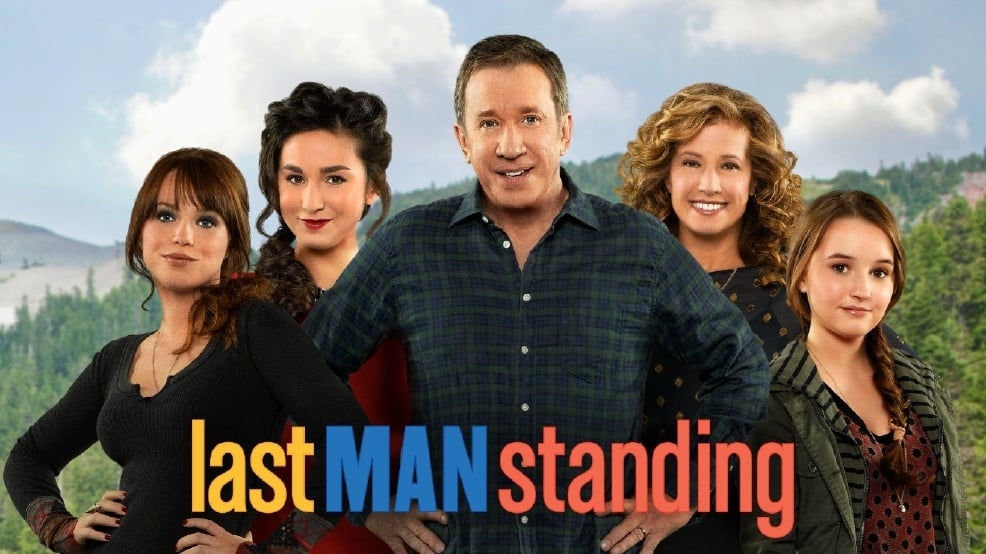 When Jonathan Taylor Thomas left the show in the final season, he created substantial beef between himself and Allen. This is because Thomas said he was leaving for academic reasons, only for Allen to later learn that Thomas had left to film a movie called Speedway Junky.
Thomas and Allen eventually buried the hatchet, with Thomas doing two guest appearances on Allen's later sitcom Last Man Standing. One such guest spot was alongside his former TV mom, Patricia Richardson. Thomas even directed three episodes of the series.
Most Of The Cast Reunited For A Tv Special In 2003
Four years after Home Improvement ended its eight-season run, a handful of the principal cast members reunited for a TV special. Tim Allen, Richard Karn, Debbie Dunning, and Earl Hindman all returned for Tim Allen Presents: A User's Guide to Home Improvement in 2003.
Hindman didn't appear on-screen, because he was battling cancer, but he contributed voice-over narration to the special. In it, Allen presented his favorite clips from the series and hosted a Q&A with the live studio audience. The special was later included as a bonus feature on the Home Improvement DVDs.
Allen Used His Show To Support The Troops
There's a big Navy connection in Home Improvement. Richardson was the daughter of a Navy veteran, and Allen likes to support the troops. He once invited a number of Navy servicemen to a Home Improvement rehearsal, letting them in on a part of production that most fans never get to see.
Allen's support of the Navy didn't end with Home Improvement, either. He surprised a mother and her two children by inviting them to a taping of a Christmas episode of Last Man Standing, where her husband, a Naval officer, was waiting to greet them after being deployed overseas.
Hillary Clinton Was Going To Appear On An Episode.
Believe it or not, there were plans to have Hillary Clinton appear as a guest star on an episode of Home Improvement. According to some internal memos at ABC, the show's producers were keen to have the then-First Lady appear in an episode that could cover any topic she wished, such as women's issues or children and family issues.
Obviously, the proposed cameo never came to fruition. But it's interesting to think of how the show might have tried to explain Clinton suddenly showing up on Tool Time. Or maybe she would've shown up next door at Wilson's house, and dispensed some wisdom over the fence.
There's A Few Reasons Season 9 Didn't Happen
Even though Home Improvement was a popular show, producers weren't able to make a ninth season come together. Part of the reason was that Richardson wanted her paycheck to match Allen's. But the show's producers were unwilling to meet her demands.
And despite being offered a huge payday to keep the show going, Allen just wasn't interested in doing the show for another season. This was in part because two of the three Taylor boys, Jonathan Taylor Thomas and Taran Noah Smith, had moved on from the show.
Allen Was Nominated For A Number Of Awards For His Role As Tim Taylor
Allen's performance as Tim Taylor was nominated for five Golden Globes and an Emmy. Allen actually won a Golden Globe in 1995. In one week in November 1994, Allen had the #1 TV show, the #1 movie (The Santa Clause), and the #1 book (Don't Stand Too Close to a Naked Man) in the country. (Insert approving grunt here.)
His co-star, Patricia Richardson, also received plenty of recognition for her role as Jill Taylor. Richardson was nominated for four Emmys and a Golden Globe during the show's eight-year run. Viewers and critics alike couldn't get enough of the Taylor family.
Binford Tools Have Appeared In Allen's Other Projects
Keen-eyed fans of Allen's work have probably noticed Binford Tools popping up in places outside of Home Improvement. The fictional brand that sponsors Tim Taylor's show Tool Time made an appearance in Toy Story. The Binford name is stenciled across the side of a toolbox in Sid's room.
Binford has also appeared on Allen's later sitcom, Last Man Standing. He clearly loves the show that made him a superstar, and likes to make small nods to it to keep it alive.
Fun fact: Binford was named after a Home Improvement writer's old friend from school.
Tim Taylor Was Ranked #20 On Tv Guide's 50 Greatest Tv Dads Of All Time List
It was tough to think of a better TV dad in the 90s than Tim Taylor. Despite his habit of getting carried away with adding "more power" to solve any situation, Tim always had his family's best interests at heart. Which is more than you can say for some other sitcom dads (we're looking at you, Peter Griffin).
Audiences tuned in to watch Tim be a bumbling but good-natured husband and father for eight seasons of Home Improvement. It was enough to earn Tim Taylor the #20 spots on TV Guide's 50 Greatest TV Dads of All Time list, ranking higher than Ward Cleaver. Bet Tim never saw that coming.